scarred
A downloadable game for Windows and macOS
Scarred is a psychological horror game inspired by the amazing horror games of my childhood; like fatal frame or Silent hill.
The game follows the young girl Lori as she explores the hells-cape that used to be her home. The game is slated for release in early may of this year for mac, PC and linux.

Scarred follows Lori (Lorelai) Samedi, the child of Morrigan Samedi and Baron Samedi as she tries to find her parents in the house that used to be her home.
Along the way, Lori meets the police officer Clay Begrav who becomes a guide throughout her adventure into the horror of the nether world in which she finds herself.
Lori's relationship with her parents is at the forefront of scarred and every move that she makes leads how down a winding path towards the realisation of where she is and why she is there.

The game follows in a long tradition of adventure titles that use the horror medium as its main focus.
The game focusses heavily on the story of Lori and what has landed her in this surreal world, and as a player, you will manipulate her surroundings to figure out what has happened to strand Lori in her current state.
The game is made with Unity 3D and requires very little form any system, so it should be able to work on most computers.

Scarred is a deeply narratively driven game, and as such each individual character has a strong connection to the overall story. These are all of the characters that you will meet in the game.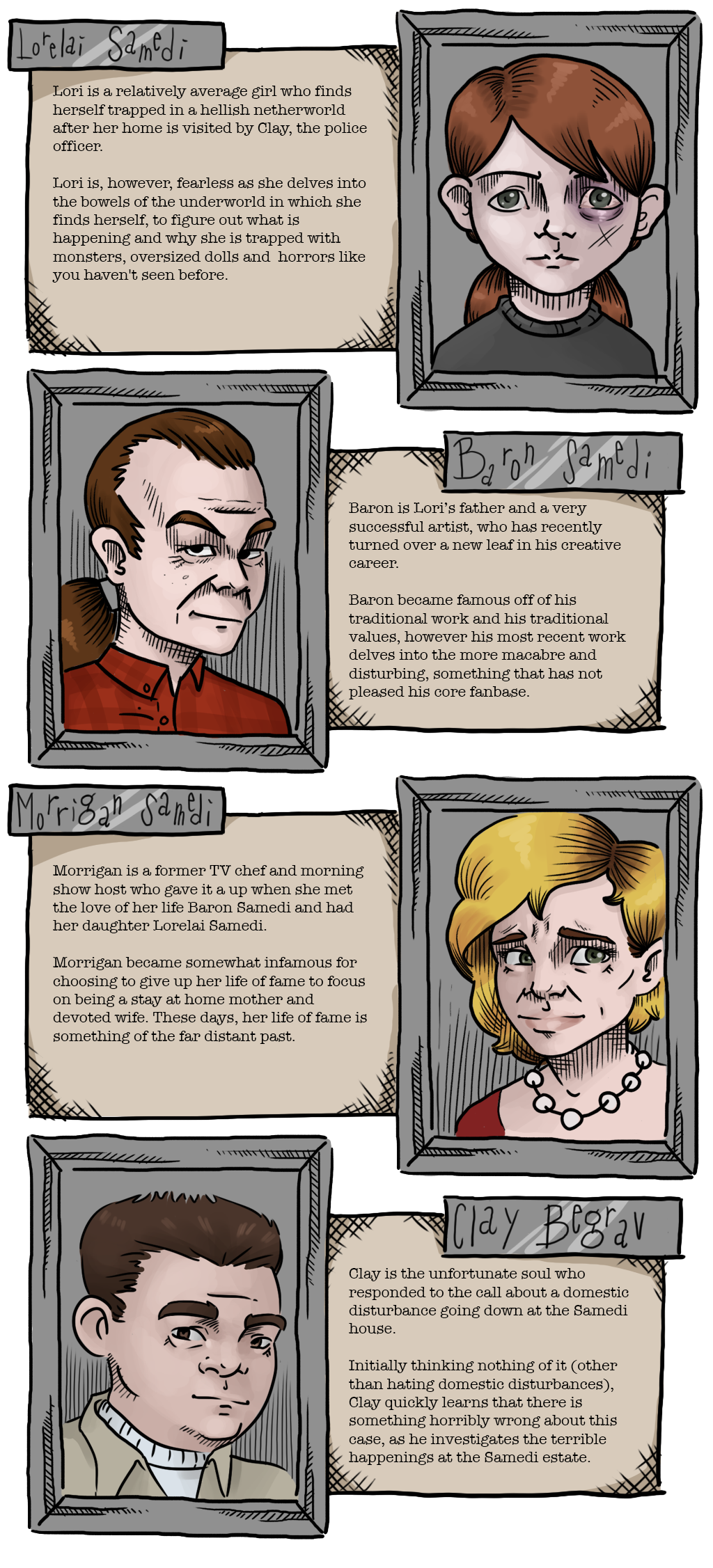 Purchase
In order to download this game you must purchase it at or above the minimum price of $10 USD. You will get access to the following files:
Comments
Log in with itch.io to leave a comment.
Scarred is a graphical adventure, in a nightmarish, psychological horror setting. The writing and art combines elegantly to tell a compelling story that kept me interested throughout the whole game. The graphical style is very expressive and sets the mood effectively, both with little details and well executed special effects.
Most of the game we follow the girl Lorelai, switching between reality and memories, not quite knowing which parts are real. Everything turns around in a sickly, twisted knot giving the feeling of constant uneasyness.

The game is not particularly hard, at least not to seasoned adventure gamers. But people new to the genre may very well find themselves challenged. Some of the puzzles are quite clever, some more ordinary. It's really the story that drives this game forward, and the puzzles serve more to support the narrative rather than presenting a challenge.

The sound and music provides suitable support for the setting, but at times it becomes monotonous. and at one spot it was a little too discomforting for me, and I had to turn the volume down for a bit.


Overall a very good game and story that I recommend to anyone into story based games. But be warned that it becomes quite unsettling and outright scary at times.
Wow, can't believe I hadn't heard about this game! Definitely an underated game, more people need to play this! I picked it up on a mere whim because it was on sale and had a similar look to it as the Rusty Lakes games, which I love. Turned out to be really interesting and a lot of fun!
It is a little bit glitchy at points. Had a couple missing text box and mutliplying door glitches, but nothing that affected the overall game. It has a wonderfully creepy but not too scary vibe, kind of like Rusty Lakes meets Silent Hill. The ending is a little abrupt. I would've liked to see more about how your final choice impacts the characters afterwards. Spoilers in the next sentence : What happened to the mom and dad, what happen to the spirit who you chose, and maybe something showing Lori's "transition"
Overall loved it! Took me less than 3 hours but was captivated the whole time! A sinister but satisfying puzzle/story game for somone with a dark sense of humor and a fascination with the morbid.
thanks so much for the feedback and I'm glad that you liked it
Do you have this game available on any other sites, or just this one? I'd like to leave more reviews to get the word out about Scarred to more people if possible?
Hello, after I got the teddy bear, I couldn't trigger the dialogue with the little girl, the game couldn't go on, I had a similar problem before playing the demo, please solve it
the teddy bear is just a pick up, you have to set the radio in the basement to 102 to make the girl appear (she will try and speak to you via the radio)